Taipei: The Best City in Asia You Haven't Been To
If you're looking for a world-class city in Asia, replete with interesting things to do and delicious foods to eat, look no farther than Taipei! Nestled in the Taipei Basin in the northern part of Taiwan, the beautiful city combines an ideal mixture of old, local traditions and new, global influences. Whether you want to visit an ancient Buddhist temple or play video games in a hyper-modern, neon-lit night market, there's something here for everyone 
Below, we'll take a look at some of the best of Taipei – sites you should definitely check out if you decide to visit Taipei.
Tapei 101
Taipei 101 is an icon of the city. This skyscraper, dwarfed by Dubai's Burj Khalifa in 2010, has a design that also intigues many new visitors: Tapei 101's designers attempted to infuse traditional Asian styles into a modern skyscraper, which is clear if you take a look at it. 
At 1,671 feet tall, you'll most likely be able to spot this building from anywhere in the city. Climbing to the top of the skyscraper is also recommended – high-tech elevators will get you up there in no time flat! The Tapei 101 observatory gives you the ability to admire the entire city from above, something we recommend for either the beginning or end of your trip.
Chiang Kai-Shek Memorial Hall
For those interested in history, the Chiang Kai-Shek Memorial Hall is a must-see. Chiang Kai-Shek, leader of the nationalist Kuomintang during the time of their exile to Taiwan, is one of the most important figures in the Republic of China's history, and his beautiful monument reflects that. Two staircases – each with 89 stairs, reflecting Chiang's age when he passed – lead up to the sparkling white exterior, and inside you'll find a large bronze statue of the man himself.
As an added note, If you want to observe the changing of the guard, it occurs every hour on the hour from 9 AM to 5 PM.
Longshan Temple
Longshan temple was constructed back in the early 1700s as a shrine to Guanyin, a Buddhist figure heavily associated with compassion. Since then, it has expanded to include wings for Chinese folk deities Guan Yu and Mazu. You'll find it one of the most interesting religious sights in Taipei as it's still heavily-frequented by the faithful.
Guandu Temple
Guandu temple was constructed around the same time as the Longshan temple but is dedicated exclusively to the sea goddess Mazu. Here you'll find butterflies and pagodas and be astonished by how far the temple complex expands. Unliked Longshan, which is located towards the center of the city, Guandu is a bit farther out. However, it's worth the trip, especially if you are interested in local religion.  Check out this guide to the area around it for a preview of what's to come of there.
Bopiliao Historic Block
Bopiliao Historic block gives you a snapshot of the city's history, from the Qing-era up until modern day. Its purpose is to show all the different cultural influences that have made the city what it is today, from Chinese to Japanese and western. Older buildings have been restored, too – you can think of this area of the city as an outdoor museum.
Elephant Mountain
Climbing Elephant Mountain gives you a beautiful view of the city and especially of Taipei 101. Stay until evening to watch the city and this awesome building light up. The value of this experience can't be underrated – it's a must-do if you're in Taipei! 
Yangmingshan National Park
If you find yourself being tempted by the rolling hills around Taipei and want to hike beyond Elephant Mountain, consider visiting Yangmingshan National Park. This park is known for its beauty, including winding streams and even a dormant volcano in the form of Seven Star Mountain, which can be climbed by the adventurers at heart.
Beitou Hot Springs
If you find yourself overwhelmed by the sights and sounds of the big city, consider paying a visit to the Beitou Hot Springs. It's easily accessible by bus and you can definitely spend an entire day there, as the Beitou area includes not just hot springs but historic and cultural sites.
Restaurants
One of the best things about Taipei – as anyone who's been there will tell you – is the cheap, delicious food.
Fuhang Soy Milk in Zhongzheng district is a popular breakfast location, known for its Chinese donuts, egg crepes, and fried dough sticks. Of course, you should also try some of the delicious soy milk.
Ay Chung Flour Rice Noodles specializes in one thing – if you guessed flour rice noodles, you are correct! Their mixes are surprisingly delicious, and can be ordered in two sizes: large and small.
Din Tai Fung on Xinyi road is famous for its soup dumplings known as xiao long bao, something you should try when in Taipei.
The Drip Cafe in Xinyi district offers cute, yummy desserts such as cupcakes and cronuts along with a nice cup of coffee, so this is a decent spot to finish off your day.
Night Markets
Night markets are one of the things Taipei is most famous for, and your experience in Taipei would not be complete without visiting one at least once. They're famous not just for their shopping opportunities, but also for their food – munching on some local cuisine while hanging out in cool night air of Taipei is something you should definitely do here.
The two most well-known night markets Linjiang street market and Shilin Street Market (pictured below). Linjiang is the smaller of the two (which may be good for those who want to avoid crowds) and is one of the best places to get traditional Taiwanese street food in the city.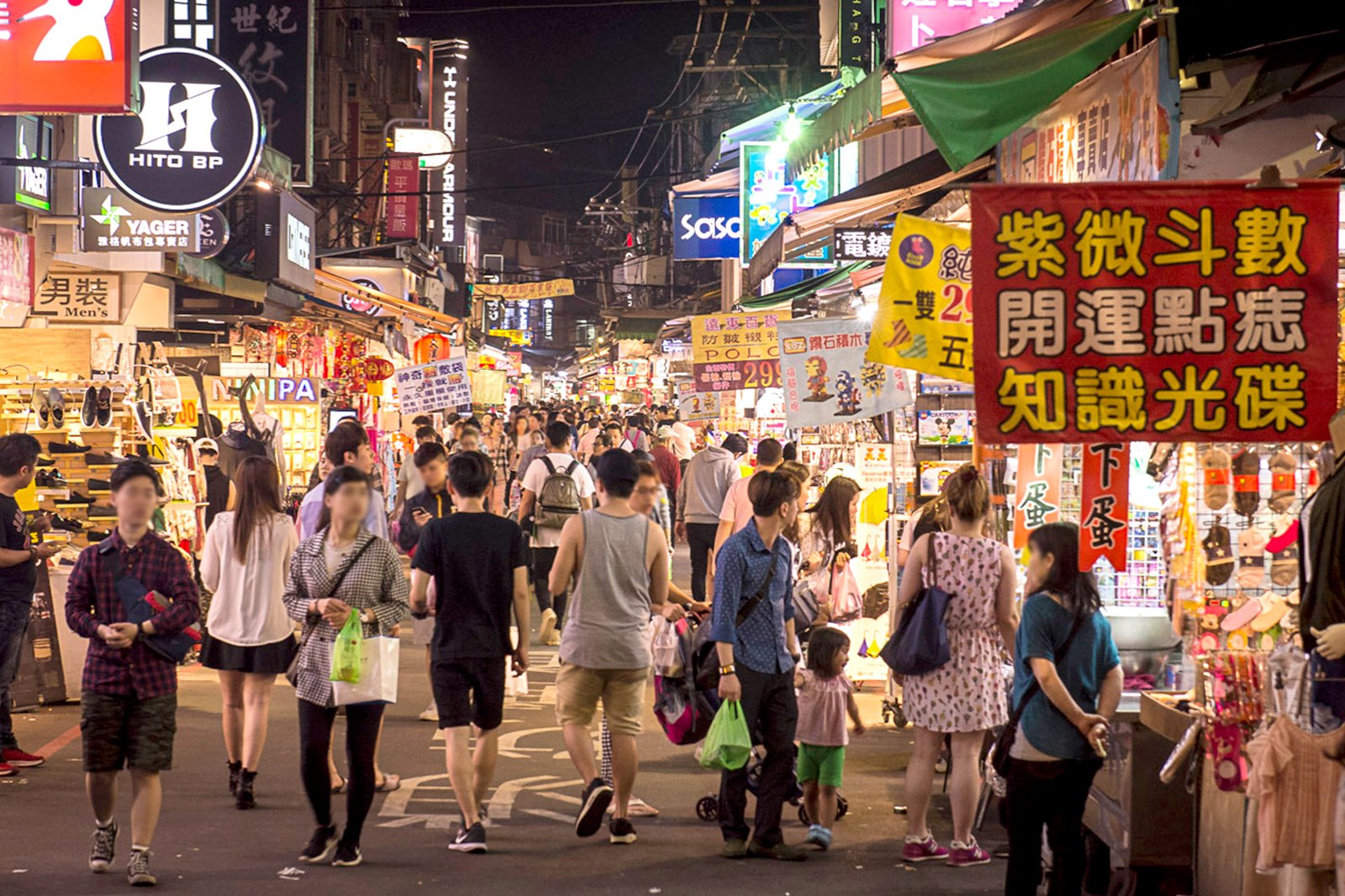 Shilin is the largest street market in the city and, for sure, one of the most popular. This is the iconic Taiwanese night market experience, and definitely a place you need to visit if you're in Taipei. You'll find not just great food but also a collection of various shops and even video arcades.
Other Attractions
Taipei is also known for its more "niche" attractions.
For example, if you're a fan of kittens, be sure to check out the Kitten Coffee Garden. Here you can relax and enjoy a cup of coffee while surrounded by some adorable kittens.
The arcade in the Ming Yao department store is great for those who enjoy video games, but there are also sports (basketball hoops) and dancing.
Wrapping Up
Overall, Taipei serves a perfect gateway to the rest of Asia or on its own. It's sometimes overlooked, but certainly doesn't deserve to be – we highly recommend you pay a visit to this culturally-rich, storied and, most of all, fun city.
If Taipei is not one of the areas you would like to visit, we have other guides of other areas we believe you will like on the Indian Subcontinent you should look into. Check them out here.
Happy travels! 
share this: